Cyberinfrastructure Research Consultant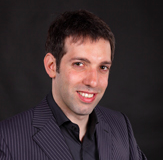 Francesco graduated from SISSA/ISAS in Trieste - Italy, where he designed and applied statistical tools to model protein dynamics. He then worked as Postdoctoral Associate at Brandeis University, where he conducted research on functional conformational transitions in bacterial signaling proteins and protein kinases.
At Brandeis University he went on to work as a research computing specialist, managing the research computing cluster and supporting researchers in the Division of Science. Francesco joined the Research Computing team in May 2017.