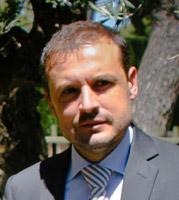 Ignacio is visiting Research Computing during the 2016/17 academic year. Ignacio is a Full Professor and the Head of the Distributed Systems Architecture Research Group at UCM, and co-Founder and Director of OpenNebula.
With 24 years of experience, Ignacio is an entrepreneur, researcher and educator that has successfully played various roles within the field of High Performance and Distributed Computing. He is one of the pioneers and world's leading authorities on Cloud Computing. He has held several appointments as cloud expert and consultant for the European Commission, the World Economic Forum, and several companies and national governments. He has given many keynotes in the main international events, founded and managed several international projects and initiatives, and authored many articles in the leading journals, being one of the top cited authors in the field of Cloud Computing.
Ignacio is a IEEE Senior Member. He holds a Ph.D in Computer Science from UCM and an Executive MBA from IE Business School.