Senior Research Software Engineer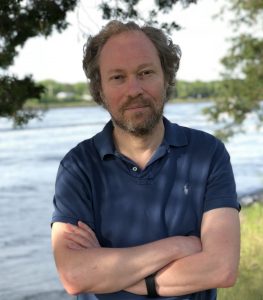 Michael (Misha) Bouzinier is an experienced software developer interested in data modeling, genetics, and evolution. Born and educated in Moscow, Russia, Misha spent 10 years supervising projects in the educational and biotechnology sectors. Misha went on to manage the GUI development at Parametric Technology Corporation, before joining InterSystems in 2001, where he designed and developed software that applied various InterSystems technologies to the Lifescience domain. In 2017 he assumed the role of Director of Informatics at the Brigham Genomic Medicine (BGM) program. In collaboration with the Sunyaev lab, he led the development of computational methods for human Mendelian genetics. In 2018 Misha together with colleagues at Brigham Genomic Medicine confounded the Forome Association - a community of contributors to the Forome Open Genomics Platform.
Selected Publications
Bouzinier M, Trifonov S, Krier J et al. Forome Anfisa – an open source variant interpretation tool. F1000Research 2019, 8(ISCB Comm J):1370 (https://doi.org/10.7490/f1000research.1117292.1)
Lev Y. Yampolsky, Yuri I. Wolf, Michael A. Bouzinier, Net Evolutionary Loss of Residue Polarity in Drosophilid Protein Cores Indicates Ongoing Optimization of Amino Acid Composition, Genome Biology and Evolution, Volume 9, Issue 10, October 2017, Pages 2879–2892, https://doi.org/10.1093/gbe/evx191
Yampolsky, L.Y., Bouzinier, M.A. Faster evolving Drosophilaparalogs lose expression rate and ubiquity and accumulate more non-synonymous SNPs. Biol Direct 9, 2 (2014). https://doi.org/10.1186/1745-6150-9-2
Benjamin De Boe, Misha Bouzinier, Dirk Van Hyfte. "Extending the PMML Text Model for Text Categorization." (2013) 19th ACM SIGKDD Conference on Knowledge Discovery and Data Mining (KDD-2013). PDF
Yampolsky, L.Y., Bouzinier, M.A. Evolutionary patterns of amino acid substitutions in 12 Drosophila genomes. BMC Genomics 11, S10 (2010). https://doi.org/10.1186/1471-2164-11-S4-S10
Michael Bouzinier, InterSystems Corporation; Iran Hutchinson, InterSystems Corporation, A 50-Minute Development Cycle for Database Applications, JavaOne, TS-7555, 05/06/2008 3:20 PM -4:20 PM

This work is licensed under a Creative Commons Attribution-NonCommercial-ShareAlike 4.0 International License. Permissions beyond the scope of this license may be available at Attribution.