Sr. Site Reliability Engineer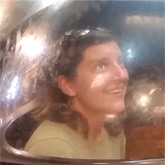 Molly came to Research Computing from HUIT, where she worked as a DevOps engineer. Over the course of her career, she's worked in sectors ranging from higher education to advertising, and in organizations ranging from a tiny start-up to a company with over 500 engineers. She began her career as a software engineer, but has always had a systems and operations focus, making DevOps/SRE a natural fit. Her professional passion is taking the pain out of deployments and operations through a combination of automation, monitoring, and best practices that actually work for humans. Molly has a BA in History and an MS in Library and Information Science. 
In her free time, she enjoys hiking, running, biking, and generally spending time outdoors. She also loves to cook.