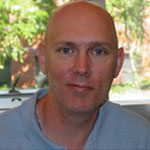 Name: Mike Ethier
Job Title: Research Computing Associate
How long have you worked for RC?
Since its inception, which would be 2006. I started in 2001 working at Harvard on a smaller 200-300 core compute cluster.
What led you to a career in HPC?
I worked for a Northeast software reseller supporting the LSF queuing package for all types of customers, and then moved on to supporting a linux HPC compute cluster in the Harvard Bauer Center.
What's the best part of your job?
I get to work with the latest technology in the HPC tech space, and the people in the RC group are great to work with.
What's the biggest misconception about RC or HPC in general?
Sometimes users seem to think the storage or compute resource is endless and that it can handle any workload its given without issue.
Given all the research conducted on RC's Odyssey cluster, is there any one project that stands out for you?
Not really. I have worked on many projects that have added to the whole RC service offering.
If you could give RC users one piece of advice what would it be?
Read our documentation! Read the main resource pages, and if you are still stuck, we are here to help. And when it comes to coding, check that Caps Lock isn't on :-). It can make a world of difference!
Planes, Trains, or Automobiles?
I prefer Planes and Automobiles. I enjoy air shows and aviation in general. I have flown in and attempted to pilot a helicopter more than once; they are extremely difficult to fly, and a certain quick death for a novice. I have flown in an acrobatic airplane, a Super Decathlon, but told the pilot I wanted to keep my lunch in my stomach :-). I am partial to loud fast cars, like the American muscle cars of the 60's and 70's.
Next - Profiles in Delight: Daniel Kelleher
Copyright © 2015. All Rights Reserved.
Information about how to reuse or republish this work may be available at Attribution.