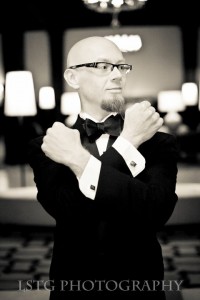 Name: Nate St. Germain
Job Title: Research Computing Associate
How long have you worked for RC?
I started in October 2013, so it's getting close to a year.
What led you to a career in HPC?
High Performance Computing itself wasn't even on my radar. I'd been doing operations/sysadmin type work for awhile and wanted to join a solid team when I found RC. Prior to this, I've done many different things: landscaping, graphic design and book layout, editing for a daily newspaper, tech consulting, and probably a few others.
What's the best part of your job?
The team is by far the best part of working here. Everybody focuses on moving forward, on improving our systems to deliver the best possible service for the community. In times of crisis, we all jump in to deal with problems. When it's quiet — which is rare — we tackle projects to make sure everyone's experience using the cluster is better. It's also pretty cool to deal with the large scale infrastructure we operate. It's a pretty complex beast.
What's the hardest part of your job?
The hardest part of the job is balancing interrupt driven work with more focused or project work. We have a very small staff compared to many shops, so that means everyone does a little of everything. While we're intent on helping everyone quickly with his or her issues, it's often tough to juggle these competing interests. We do all we can to spread delight, in whatever small way, each day and appreciate the community's patience and understanding when things get busy.
What's the biggest misconception about RC or HPC in general?
After having seen some of community members' questions over the past year, I think it can be difficult for people to fully grasp how shared our cluster resources are. The way one job is crafted can affect many other people. It could be that the job or jobs are writing tons of files to a specific filesystem, causing any other I/O to that space to slow to a crawl.
Or it could be that the job asks for too many cores, which then ties up those resources so others can't use them. So far, our weekly office hours on Wednesdays at 38 Oxford St., 12 - 3 pm, have been a great way to work through some of these issues with individuals. We're working on more and better documentation to help answer some of these common questions, too.
Given all the research conducted on RC's Odyssey cluster, is there any one project that stands out for you?
Honestly, I think it's amazing that the community has access to such a huge amount of compute power for almost any compute intensive research. I can't really pick a favorite here. Kudos to one and all!
If you could give RC users one piece of advice what would it be?
Learn something new every day. If you're new to using Linux or the command line in general, learn a new command or read some man pages. If you're new to the cluster, read some of our docs, ask questions, and try to get your jobs running. If you consider yourself an expert at something, learn something else, try a new approach to solving a problem, collaborate with someone more or less experienced than you are.
I guess as a corollary to this, try to create delight in some way every day. It's easy to get wrapped in the daily grind, focusing on research or paperwork or any number of other obligations. Once in awhile, stop to make someone laugh or maybe just laugh to yourself.
Game of Thrones, Breaking Bad, or Sherlock?
I'm not much of a TV person. We don't even have cable, so I'll have to go with Sherlock. Everyone likes the lovable know-it-all, right?
Next - Profiles in Delight: Plamen Krastev
Copyright © 2014. All Rights Reserved.
Information about how to reuse or republish this work may be available at Attribution.