For New Account Signups
This page describes the use of the Odyssey Access tool for account signup. This application replaces the RC Account Tool.
Do I Qualify for an RC Account?
Please see our Account Qualifications and Affiliations page to ascertain if an FAS RC account is right for you. Our primary support is to the FAS/SEAS as well as agreements for paid access for HBS and HCSPH (please check with your PI first as charges likely apply.) HMS and the hospitals (Childrens, Partners, MGH, etc.) are supported by HMSRC and the Orchestra cluster.
FAS Research Computing accounts must be setup via the Odyssey Access system
FAS Research Computing accounts are separate from other Harvard systems, including HarvardKey. Access to the Odyssey compute cluster, Spinal instrument signup, MiniLIMS and IggyBase LIMS systems, and RC VPN realms require the creation of an RC account with 2-Factor authentication.
Please Note: You may have only one RC account. If you need to add cluster access or membership in a different/additional lab group, please submit a help ticket. Please do not sign up for a second account. This is unnecessary and against our account policies. Also, accounts which go for long periods without being used may be disabled. 
If you need to add instrument access, see the SPINAL instrument sign-up documentation.
Both HarvardKey and non-HarvardKey users can signup
In the old RC Account Tool, users were either Internal (had a PI sponsor) or External (usually using Core facility instruments through the Spinal system). In the Odyssey access system, users that have a HarvardKey take one path and those that do not take another path.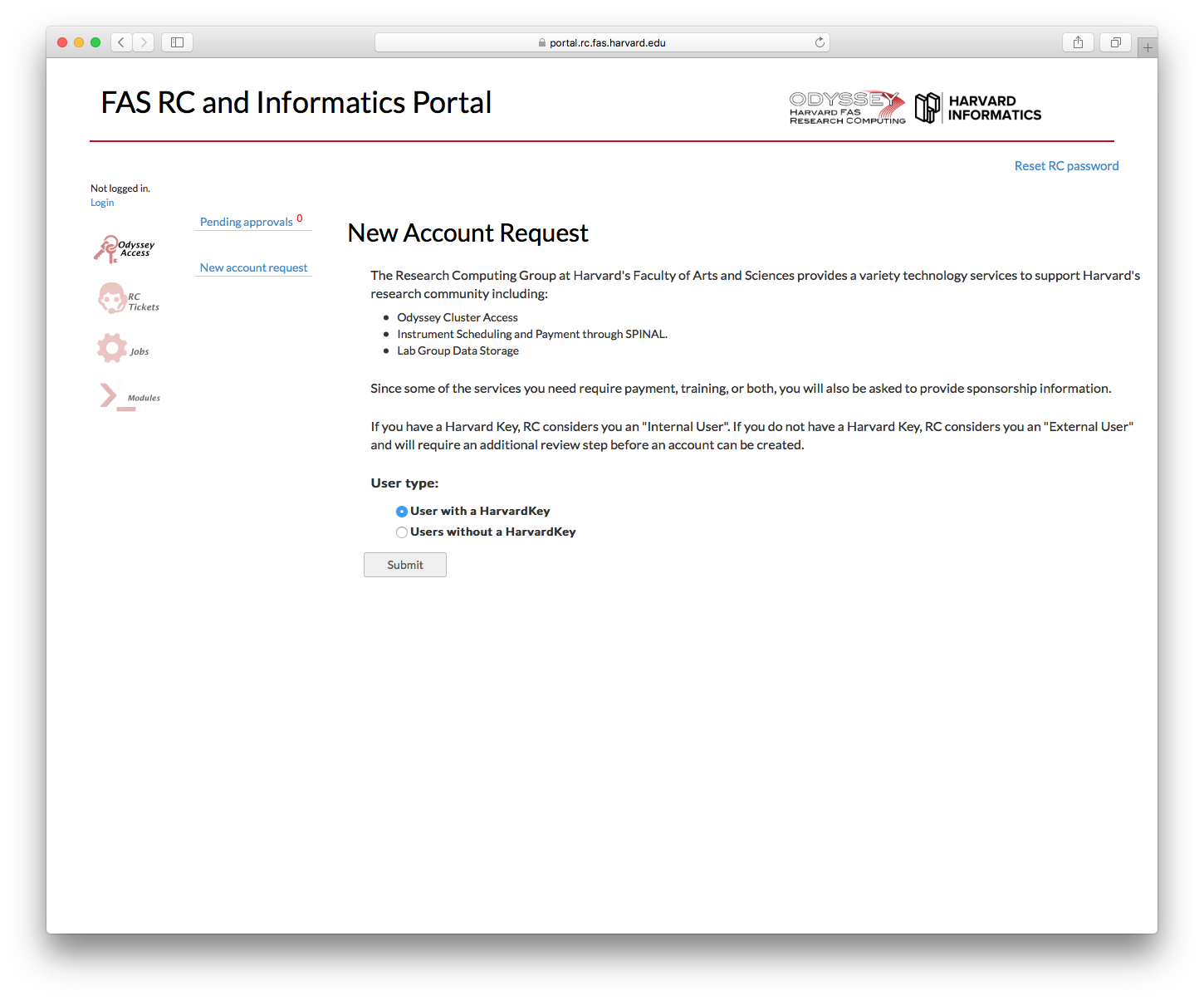 Job Title is Important
Select the Job Title that best describes your position in Harvard. If you are outside Harvard, always choose EXTERNAL.
Examples: A professor from another university who is collaborating with a Harvard PI would choose EXTERNAL. A fellow or TF who will be teaching a class would choose POSTDOC/RESEARCHER. A programmer hired by a faculty member for their lab would choose STAFF.
You must select a PI and an approver from the available list
Unless you have chosen FACULTY, you must select both a PI, for organizational purposes, and an approver for the account. When you select your PI, the list of approvers is populated. This will either be the PI herself, a list of designated lab managers or both.
NOTE: If you are signing up for an account for HCBI access, please see their requirements page before proceeding. This is especially important if you are not an FAS, SEAS or HCSPH affiliate.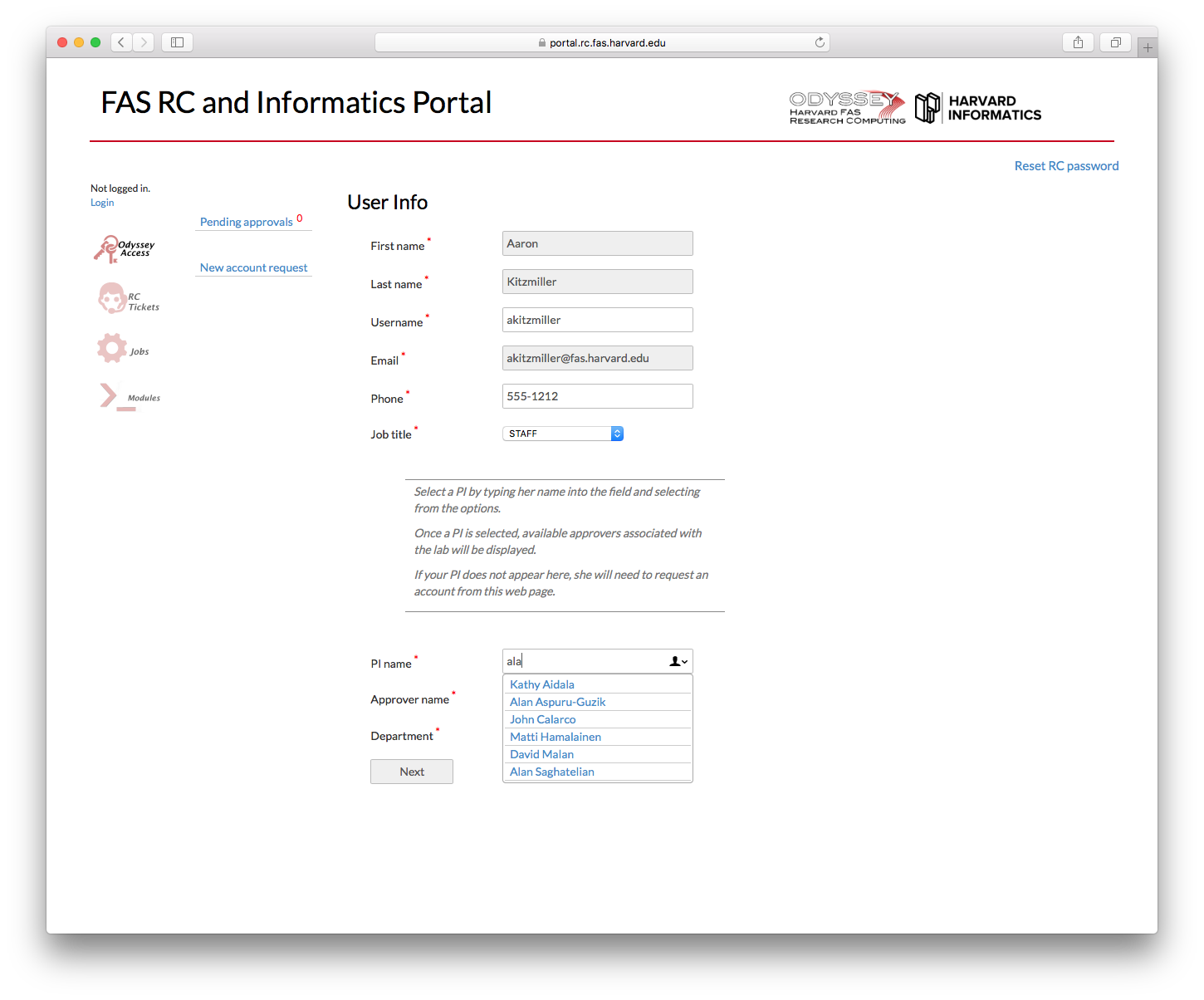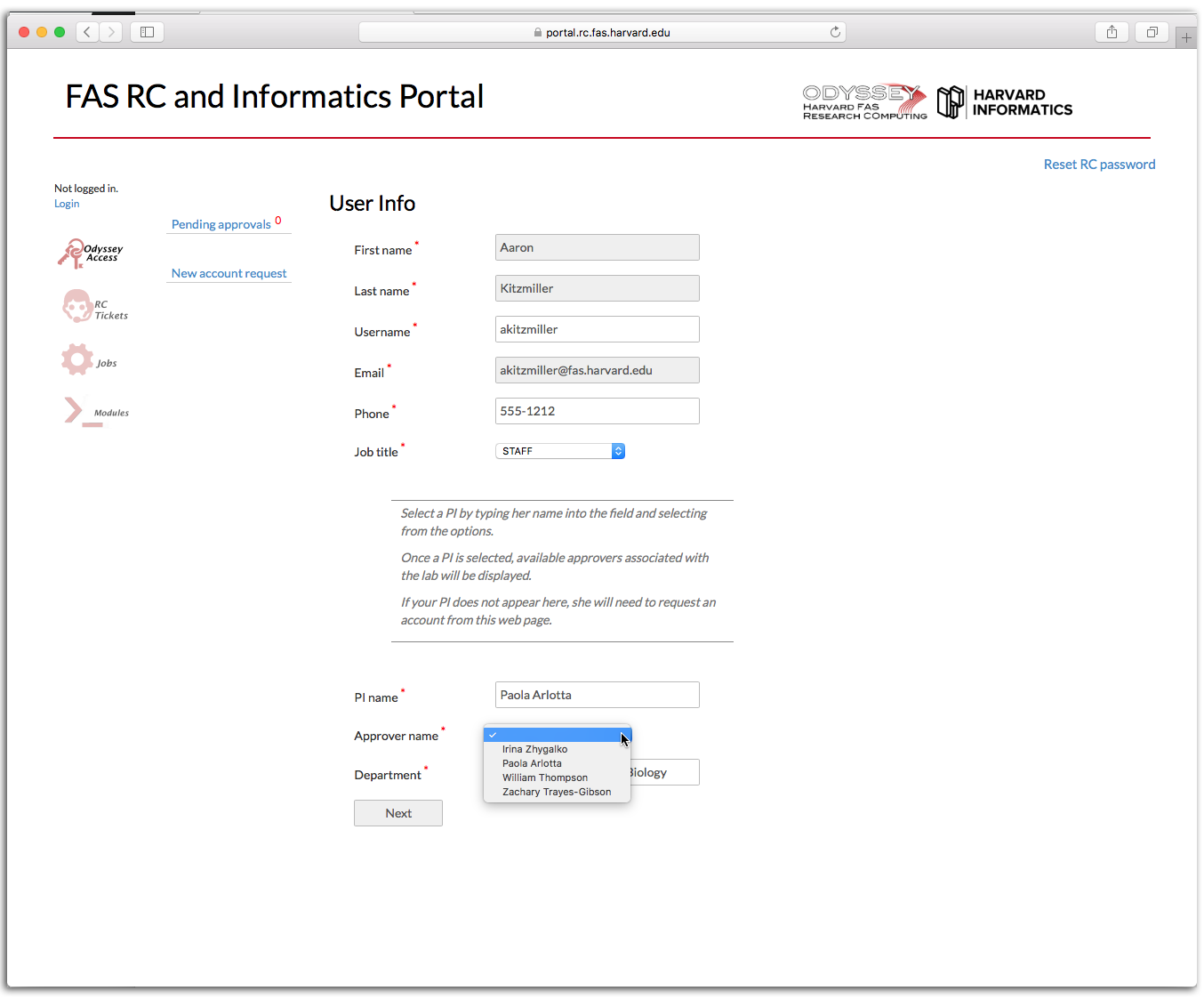 In the old RC Account Tool, if your PI was not among those listed, you could hand enter her information. This is no longer an option. Your PI must have an account before you can signup.
Passwords are not collected by this application. Passwords are "reset" after account creation.
In the old RC Account Tool, you selected your password in the signup forms. To improve security, your account is created with a random password and, upon completion of the request, you will use the password reset tool to set your password.
Select only those instruments and access grants that you need in the near future
On the final page of the account signup application, you can select a number of additional grants, including:
Instruments managed by Spinal, such as the Bauer Core Illumina sequencers and the Center for Biological Imaging Lightsheet microscopes
Compute cluster Linux account
For Approvers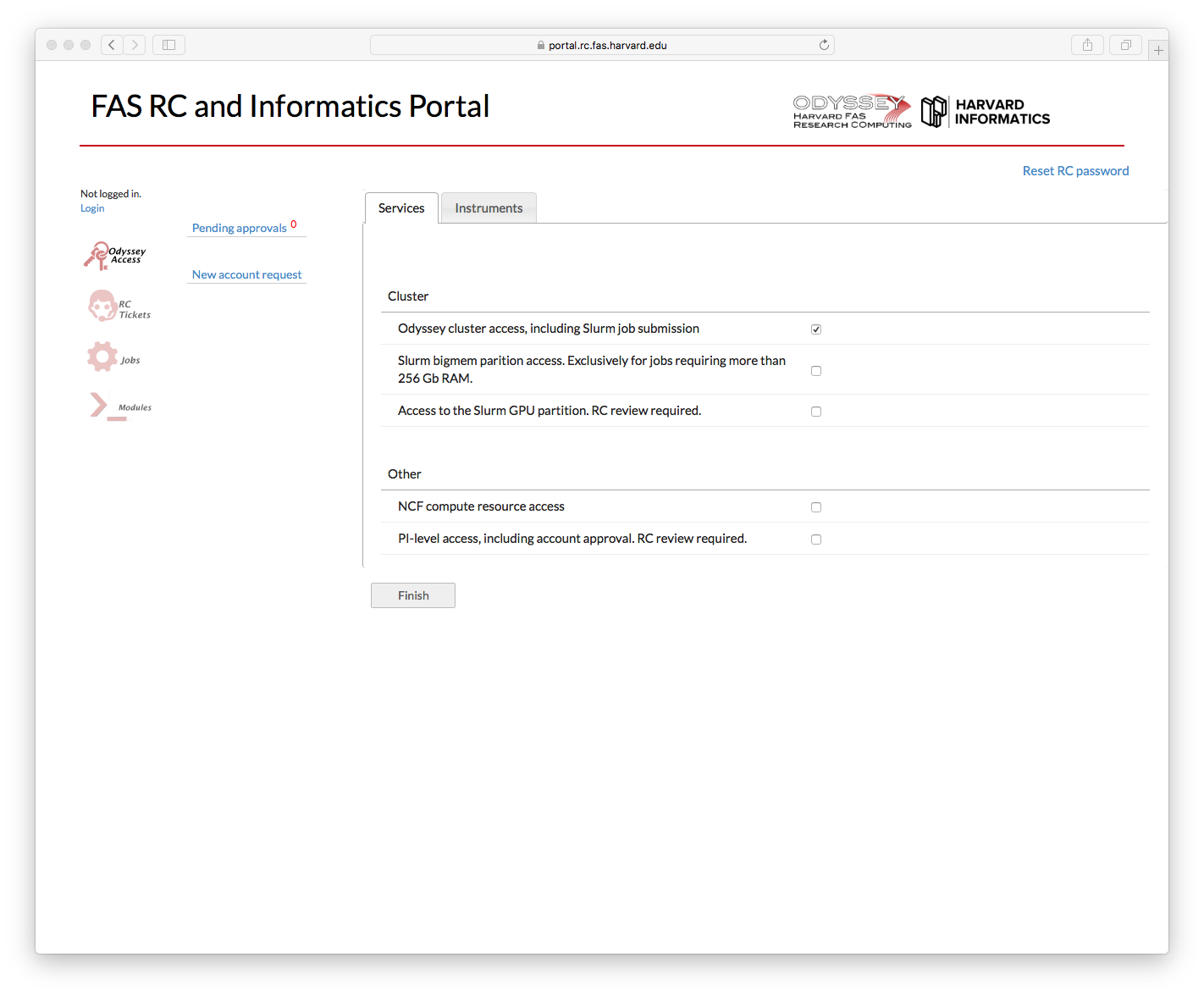 Only request those grants that you need in the near future. Additional instruments, cluster access, etc. can be requested at a later date.
Pending approvals page supports multiple approvals
When a user submits an account request, an email will go to the selected approver. The email points the approver to the Pending approvals page. To approve or reject a request, check the box next to the appropriate row and click the appropriate button. Multiple rows may be selected at once.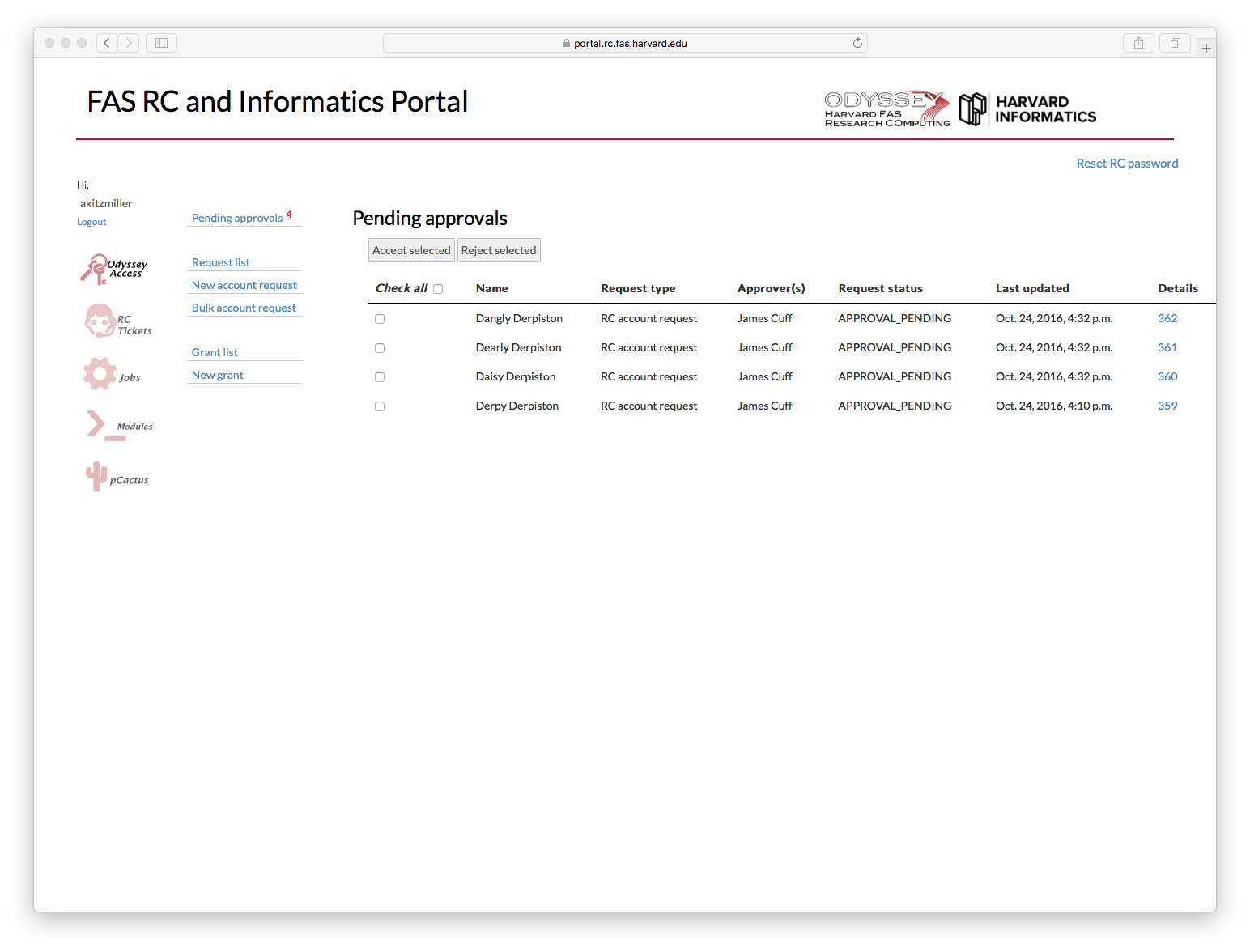 The "Details" link in the last column will show the details of the request (username, phone number, requested instruments, etc.)

This work is licensed under a Creative Commons Attribution-NonCommercial-ShareAlike 4.0 International License. Permissions beyond the scope of this license may be available at Attribution.