Associate Director, System Software Engineering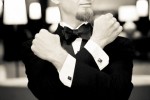 Nate joined Research Computing in October 2013. Prior to working at Harvard, Nate was a Systems Administrator at Tufts University, where he managed a mostly Ubuntu physical/virtual deployment and supported researchers with general Linux/OSS needs. Before that, he was a Systems Administrator at MIT Lincoln Laboratory, configuring and maintaining general productivity services (wiki, source code control, etc.) for a project that encompasses multiple group within the lab. He's also a recovering Mac admin, having worked as a consultant in the Boston area for many years.
In his spare time, Nate enjoys long distance cycling, baking breads and bagels, traveling, and spending time with his wife and son.