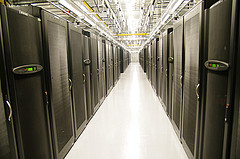 With the opening of the Massachusetts Green High Performance Computing Center (MGHPCC) in November 2012, Research Computing began the build out of its new server infrastructure located in Holyoke, MA. The end result was a cluster 28,000 processors stronger bringing total compute to over 54,000 CPUs. While computing power went up, total energy consumption went down. The MGHPCC facility was designed to minimize cooling needs by using outside air to remove heat, reducing the need for energy-intensive chiller operation. In addition, the electricity supplier for the center is Holyoke Gas and Electric, which generates more than 70% of its power from hydroelectric and solar installations.
Copyright © 2013. All Rights Reserved.
Information about how to reuse or republish this work may be available at Attribution.